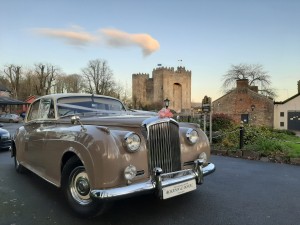 1955 Bentley S1.  The essence of timeless luxury.  You are guaranteed to feel special in the sumptuous cream leather along with pure lambs wool over rugs of this hand built vehicle.
1974 Rolls Royce Silver shadow, finished in Willow Gold with green leather interior.  Widely regarded as the most popular wedding vehicle of all time.  Super comfortable with loads of room.  The 6.75 litre engine will deliver you with "adequate" performance according to Rolls Royce!
If you're searching for a beautiful wedding car for your big day, look no further. We are passionate about vintage and classic vehicles!  All our vehicles have been repaired, maintained and/or restored in house.  We have a private collection of vehicles which we make available throughout the year for your special occasion.  We have a number of permanent vehicles which are available namely our elegant 1955 Bentley S1.  This adds a touch of timeless beauty to any wedding day.  Its sumptuous cream leather interior with Kensington wool carpet and lambs wool over mats will make you feel like you are in something special.  We also have a stunning Rolls Royce Silver Shadow finished in Willow Gold.  In addition to these vehicles we have a number of other interesting vehicles available from time to time.  Please kindly note that all our vehicles are genuine vintage vehicles as apposed to modern vehicles that have an "old look" about them.
We also have a number of modern vehicles available such as our beautiful S Class Mercedes Benz long wheel base model.  This vehicle is beautifully finished with luxury heated reclining black leather seats.  This vehicle can also be used for airport transfers etc. Please get in touch to discuss your personal requirements. We are specialists in the provision of wedding day transportation and have years of experience within the industry.
As part of our complete wedding car rental package you will be provided with a suited, friendly chauffeur who will be on hand to assist you during your trip. We can arrange to have your chosen vehicle decorated in flowers or ribbons of your choice to tie in with the theme of your wedding.
We pride ourselves on offering a very professional service. On your wedding day, we understand that emotions will be running high and your nerves will be on edge. For this reason we always ensure that our wedding vehicles arrive at least half an hour prior to the time you need to leave. We can assist with any special requirements you may have so that your day runs without a hitch.
Please note that all our vehicles will be in pristine condition and will have current road tax and NCT where applicable.
Our drivers have completed all the necessary exams and hold a current PSV licence.
Our services are suitable for many events including:
Weddings
Private Parties
Sporting Events
Hen Nights
Stag Nights
Special Events
Airport transfers – we are located only 20 minutes from Shannon International airport, 15 minutes from the five star Dromoland Castle and golf course and 45 minutes from the five star Trump International hotel.